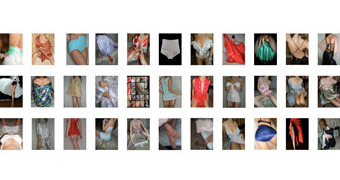 Galerie de Schans | BONNESUITS Sept-Oct 2022

group exhibition DE JACHT @ BonneSuits Warmoesstraat 67
Galerie de Schans is an exhibition space set by BonneSuits on the Warmoesstraat 67 in Amsterdam. The Jacht was their first official show curated by Jean-Michel Mabrukimussa.
The 4 partaking artists were:
- Marwan Bassiouni
- Abul Hisham
- Aysen Kaptanoglu
- Agata Zwierzyñska

For Galerie de Schans I prepared a site-specific photo-installation Natalja UP-CLOSE. The framed full-colour images were a series of 33 vertical A2 HI-RES digital prints (printed @AGA_LAB) arranged 3 rows x 11 columns, accompaned by a mannequin dressed in a lingerie corset.

Natalja UP-CLOSE
I am an artist but in my spare time I used to sell classic vintage clothes on eBay. I dressed up behind closed curtains and transformed into a sensual mannequin. While researching my competitors I soon came across Natalja M*****a - another eBay seller of vintage negligee. For years I collected pictures of her. With 22000 internet photos stolen from her website I created a Taschen-style full-colour 1000+ page book. The images show a scarcely clothed faceless female, who is often covered in suggestive bruises. Working like a detective I discovered that Natalja, a used-to-be Lithuanian escort, was now the wife of a rich American estate magnate from Illinois. The book is a personal voyeuristic trip into their bedroom via the keyhole of the Internet. It is a visual ode to my LINGERIE QUEEN. The photo-installation NATALJA UP-CLOSE offers a spotlight peek of Natalja's intimacy…

ARTWORK OF THE WEEK in de Volkskrant newspaper
Dutch national newspaper de Volkskrant featured my exhibit in their column ARTWORK OF THE WEEK. You can read the lengthy piece in the newspaper (DeVolkskrant) or here on my website among my press clippings (read article).