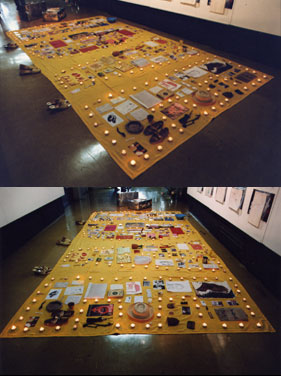 Graduation, July 2002
For my graduation project I chose to do The India Project. While staying a 100 days in Calcutta I collected and generated hundreds of objects and artworks telling the daily story of my experiences with female college students, social workers, prostitutes, artists and women from slums. My favourite selection of these items displayed in the form of the word LOVE and lit by small candles, together with a dummy image-diary were the core of my graduation presentation. I later published an artist's book The Calutta Diaries - a 100-copy publication, photocopied and hand-bound - in collaboration with Océ-Nederland (aka Canon Production Printing).
Read more about The India Project and The Calcutta Diaries.