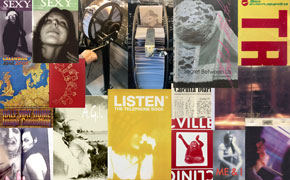 Warmoesstraat 139 | March-Apr 2022

THE MUTOSCOPE & 20 OTHER BOOKS
A showcase of all my books: artist's books, magazines & LTD edition published books, among them:

- The Mutoscope - a giant flipbook
- Joyce's Elephants - Joyce Poole's illustrated elephants
- Secret Between Us (aka Lingerie Queen) - sensual lingerie
- SEXY magazines - sexy 50s style fanzine
- UNDERWORLD - a modern story of Faust - a graphic novel
- A.G.I. - a science-fiction autobiography
- Half Way Home - Berlin artists residency project catalogue
- The Calcutta Diaries - 100 days in Calcutta
- LISTEN The Telephone Book - 1st prize Prix de Rome
- ME&I - schizophrenic camera-obscura self-portraits
- TRIP - 60 hotels in 60 days

BOOKS & MOVIES
The moving-image MUTOSCOPE is set into motion by a hand-operated crank mechanism. When turning the modified film spool viewers see hundreds of portraits of my late father flipping in front of their eyes.
The printed publications were accompanied by movie impressions of the books.

THE SPACE
My book showcase was presented in the front space of the gallery.

Read more about my books on Books&Projects page or contact me if you would like to include my books in your show.